These delicious Creamy Ranch Pork Chops are seasoned to perfection and smothered in a creamy ranch sauce. Tender, delicious, and bursting with flavor, you'll never make pork chops any other way!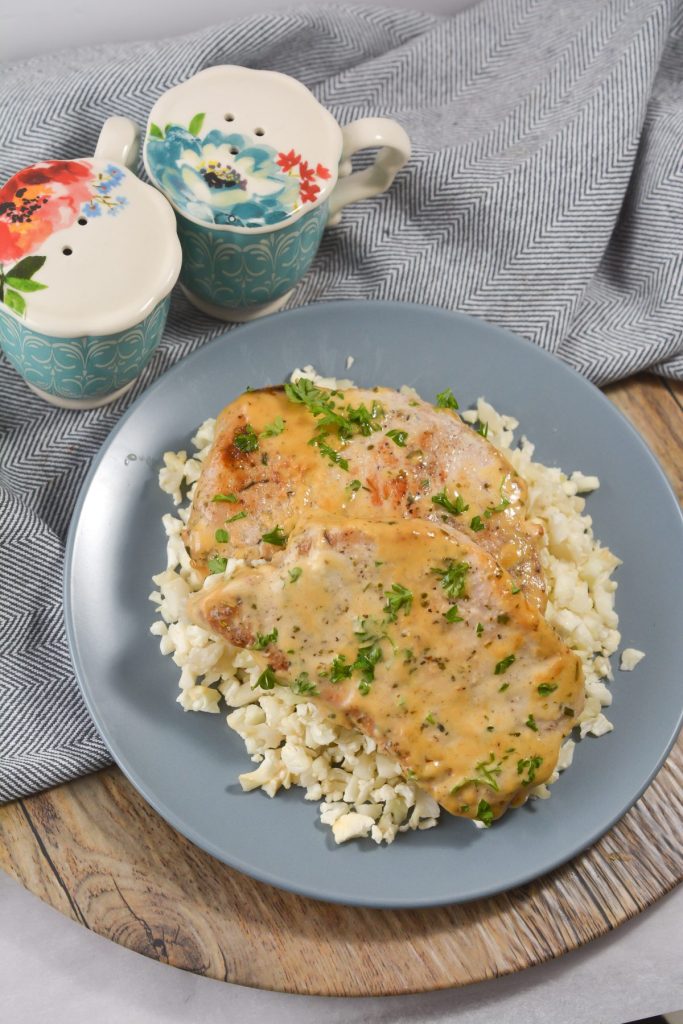 What are Ranch Pork Chops?
Ranch seasoning is a staple in my home, so I've always got at least one packet on hand. These pork chops are your classic skillet fried chops only smothered in a creamy ranch sauce that's absolutely irresistible.
As far as pork chops go, they can be tricky. Unlike beef, which is cooked to medium so it's tender, pork has to be fully cooked. But, you have to get it just right because even if you slightly overcook the chops they can get dry. These ranch pork chops are a no-fail recipe because the sauce keeps the pork chops moist, tender, and juicy all at the same time.
Ranch Pork Chop Ingredients
For this recipe, you'll need ingredient for both the pork chops and the creamy ranch sauce Here's what you'll need:
Pork chops– I used boneless pork chops for this recipe since we are using a creamy sauce. However, you could use bone-in as well.
Olive oil– I used olive oil to cook the pork chops in, but you could use canola oil, vegetable oil, or even butter if you choose.
Seasonings– Before adding the sauce, you'll want to season your chops with garlic powder, Italian seasoning, and salt and pepper.
Heavy whipping cream– To make 1 cup of heavy cream, melt 1/4 cup of butter and slowly whisk in 3/4 cup milk.
Sour cream– The sour cream really brings out the flavors of the ranch packet.
Onion powder– You will need a little onion powder to add to the sauce.
Ranch seasoning packet– You can find the ranch seasoning packets in aisle with the salad dressings.
How to Make Ranch Pork Chops
This easy and delicious ranch pork chop recipe only takes about 30-minutes to make and serves 6 portions. Follow the steps below!
Step 1: Heat the Skillet
First, turn the skillet to medium high heat and add 2 tablespoons of olive oil.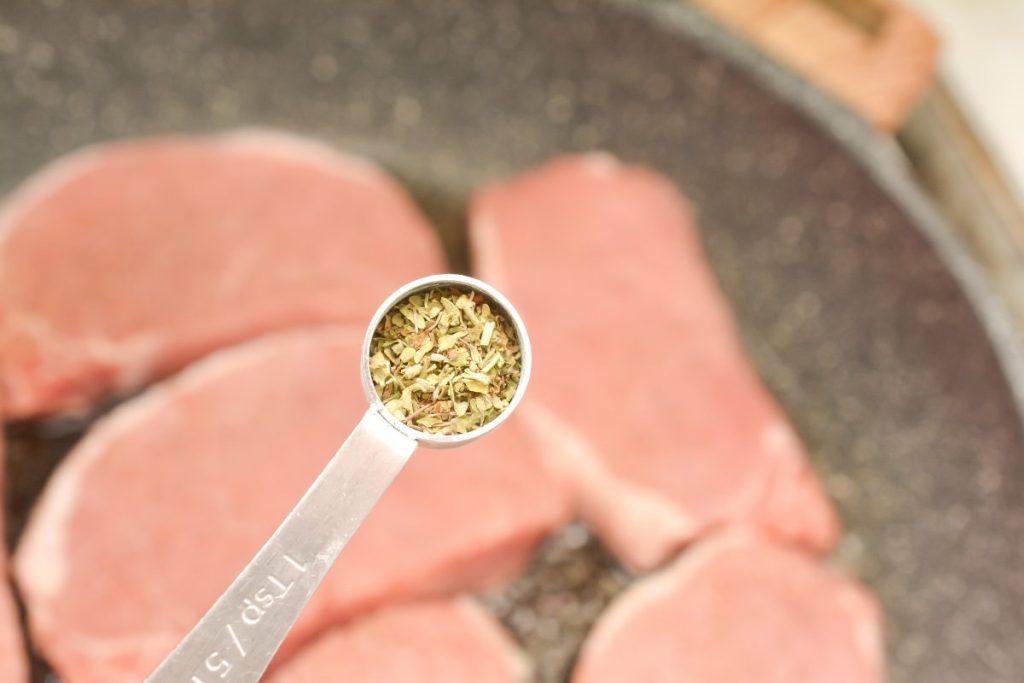 Step 2: Season the Pork Chops
Season both sides of your pork chops with Italian seasoning, garlic powder, salt, and pepper.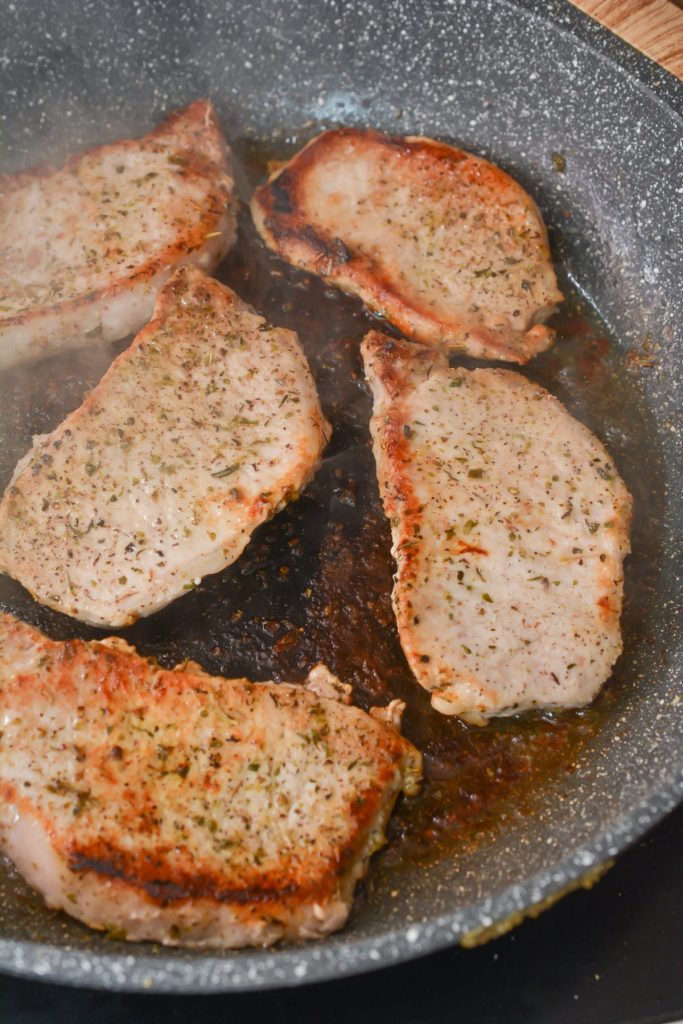 Step 3: Sear the Chops
Next, add the pork chops to the skillet and sear them evenly on both sides until cooked through. You want them to be a golden brown color on each side.
Step 4: Remove the Pork Chops
Remove your chops from the skillet and set to the side. Drain the excess oil from the skillet.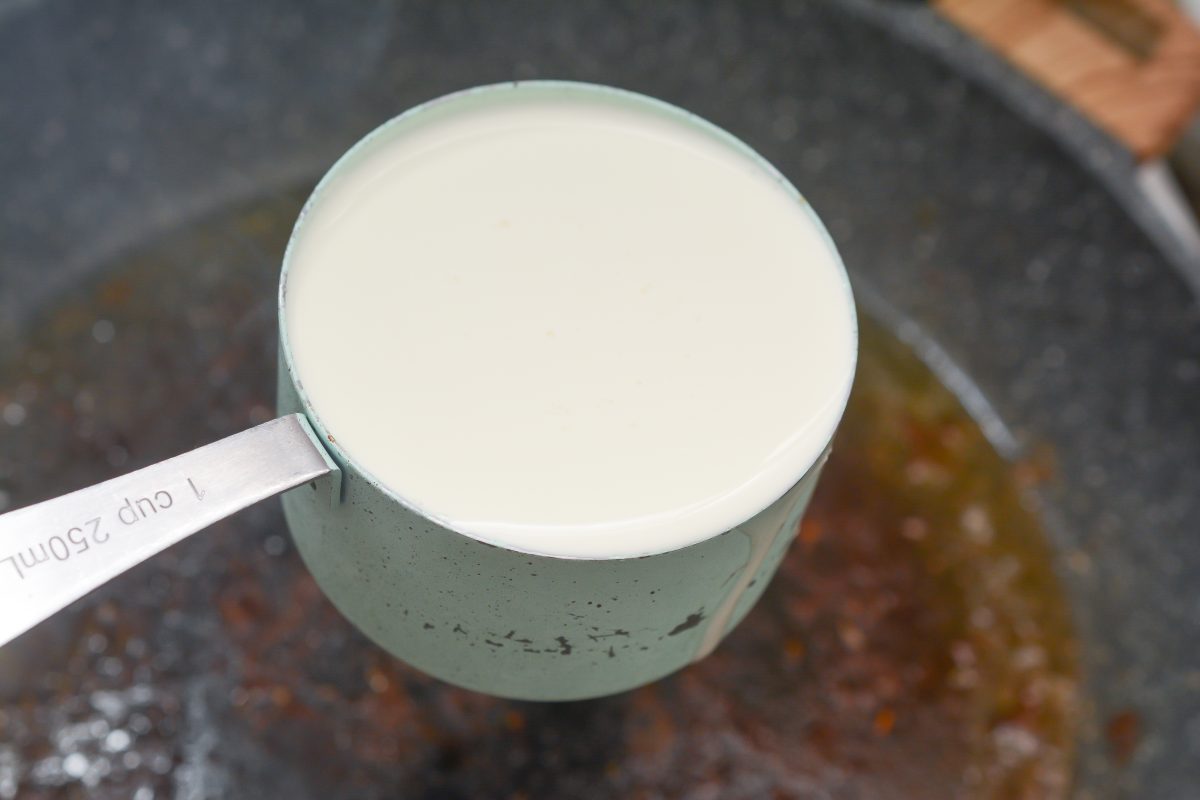 Step 5: Make the Sauce
Heat the skillet over medium heat. Then, add the heavy whipping cream, sour cream, ranch seasoning packet, and onion powder. Stir well to combine. Simmer the sauce until it thickens.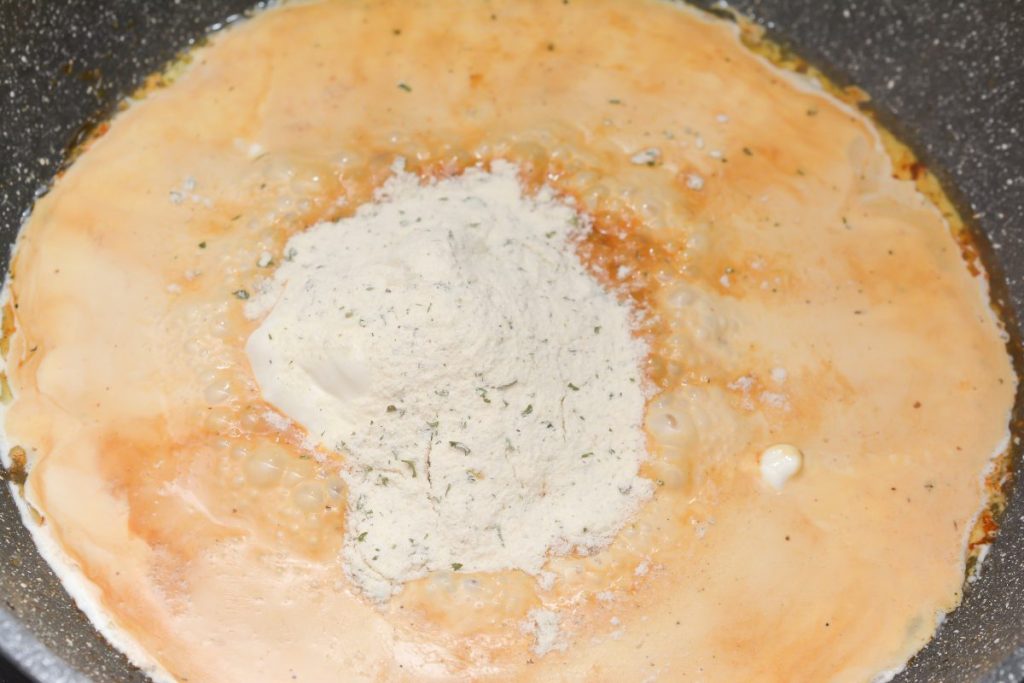 Step 6: Add the Pork Chops to the Sauce
Add the pork chops back into the skillet, tossing to coat in the sauce, and saute another few minutes before serving.
Serve and Enjoy!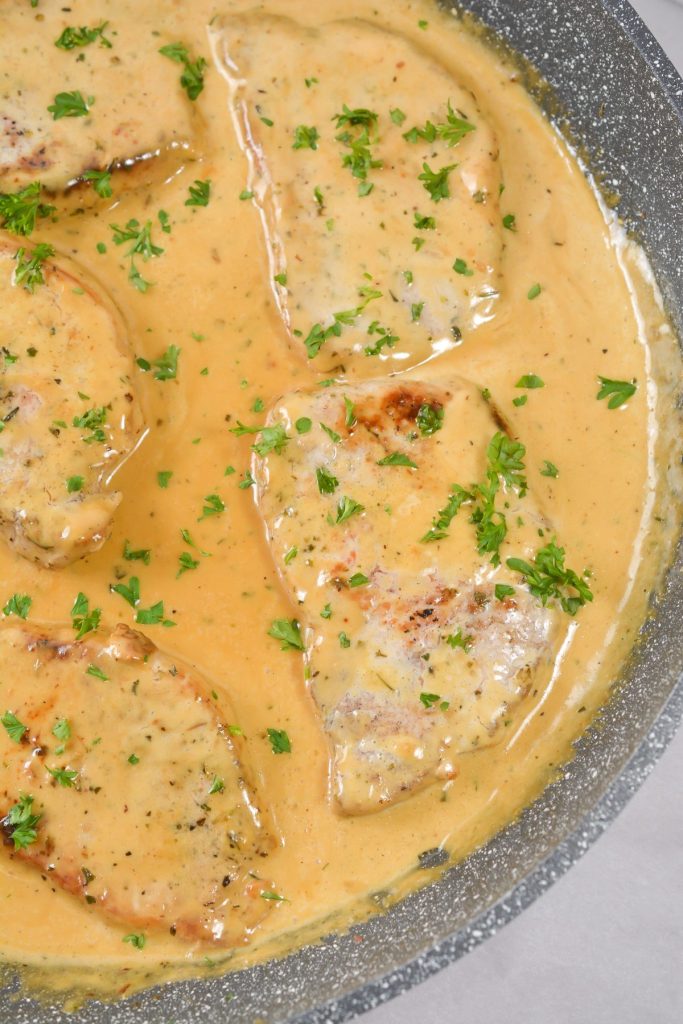 How to Make Pork Chops in the Slow Cooker
If you would rather cook your pork chops in the slow cooker, you can do that as well. First, sear your chops on each side, but don't cook them through. Then, mix all the sauce ingredients together. Place the pork chops in the slow cooker, and pour the sauce mixture on top of them. Cook on low for 6 hours or high for 4 hours. Or, use this Slow Cooker Creamy Ranch Pork Chops Recipe.
How to make Pork Chops in the Instant Pot
You can also use this recipe to cook your pork chops in the Instant Pot. Simply follow my Instant Pot Pork Chops Recipe to cook the pork chops. Then, follow the steps above to make the sauce. Pour the sauce over the pork chops and enjoy.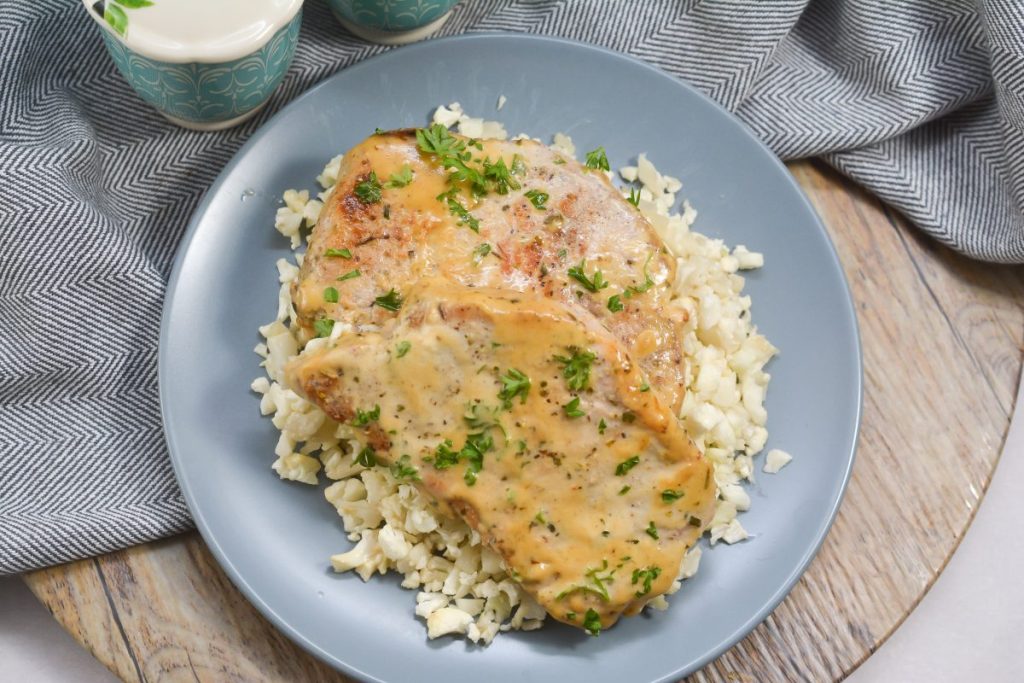 How Do You Keep Pork Chops from Drying Out?
The key to making perfect pork chops is to not overcook them. Use a meat thermometer to check your pork chops. Most chefs will shoot for 145℉ which is safe to consume according to the USDA. The sauce in this recipe adds another layer of flavor, but also helps keep your pork chops moist and juicy.
What's Good to Eat with Pork Chops?
These creamy ranch pork chops pair well with almost any side dish. You can quickly make a box of Mac & Cheese or heat up a can of corn, but if you want some delicious side ideas, here are my favorites:
How to Store Leftovers
These creamy ranch pork chops may go quickly, but if you do have leftovers, you'll want to store them in an airtight container in the refrigerator. Be sure to store them with the sauce to keep them moist and juicy. Leftover pork chops are good for up to 4-days in the fridge.
Can I Freeze Ranch Pork Chops?
Yes, you can. First, you will want to flash freeze the pork chops. Simply place them in the freezer on a baking sheet for an hour. Then, place your pork chops in a ziploc freezer bag and pour the sauce in with them. You can store your pork chops in the freezer for up to 6-months.
Other Pork Chop Recipes to Try